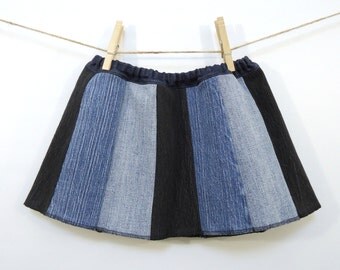 Denim is helemaal hot dit jaar. En een zoektocht door mijn kledingkast levert heel wat item op. Jack's, tassen, broeken in verschillende kleuren en modellen en zelfs een jumpsuit. We also love jumpsuits btw.
Met alle fashion weeks achter de rug en na een goede analyse van de streetstyles kunnen we tot een paar conclusies komen als het gaat om denim trends:
v gescheurd
v gerafeld
v gebleekt
- flaired
- hoge taille
- patchwork of blend
- gilets
- lange blouses
- en alles wat geen broek is mag ook van denim.
De eerste 3 zijn check. Voor de rest heb ik mijn keuze gemaakt uit de flaired pants en patchwork of blend.
Mission 1 Flaired
Ik heb een flaired model in mijn kast hangen. So far so good. Alleen pas ik daar niet helemaal meer in. Ik bedoel, ik pas er nog wel in maar ademhalen gaat een beetje moeilijk. Missie 1 is dus niet het kopen van de broek, maar er weer goed inpassen.
Mission 2 Patchwork of blend
Dit vind ik echt een prachtige trend. In de modebladen en op straat zien we vooral de broekversie. Maar omdat 'alles wat geen broek is' ook mag, de A-lijn rok dit jaar ook helemaal in is en ik nog geen denim rok in mijn collectie heb, heb ik gekozen voor de een patchwork of blend A-lijn denim skirt. En met de FFC nog vers in mijn geheugen wil ik proberen om van bestaande broeken die toch niet meer gebruikt worden en restjes hier en daar deze skirt zelf (ja mam je leest het goed, zelf) te maken.
Dus houd deze blog in de gaten als je wilt weten of ik slaag in beide missies.